Citizen Advocacy connects people with intellectual disability with local citizens
About Citizen Advocacy
A citizen advocate is an unpaid person who commits to a long-term connection with a person with intellectual disability who has unmet needs and is at risk of social exclusion.

The citizen advocate seeks to understand, respond to and represent the person's interests as if they were the advocate's own. Advocates must be sufficiently free from conflicts of interest to achieve this single-minded focus. Citizen advocates also strive to remove barriers so that the voice of the person with disability can be heard and needs met.

Some of these connections may last for life.

The function of Side By Side Advocacy is to make and support these matches between citizen advocates and people with intellectual disability. Citizen advocates are supported and recruited by a Citizen Advocacy Program Coordinator.

Our Citizen Advocacy program is available to people with intellectual disability living in Ryde and Hunter's Hill Local Government Areas.
Key features of Citizen Advocacy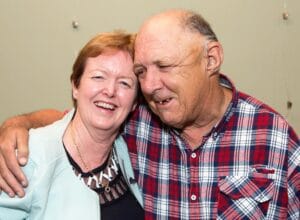 It is a grassroots movement
Citizen Advocacy draws on the expertise of community-minded people through a small but carefully considered process of networking.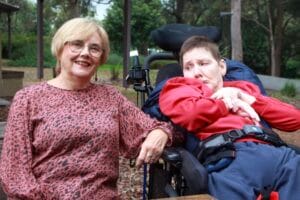 There is a focus on one-to-one relationships
Citizen Advocacy is a mutually agreed-to partnership between a person with intellectual disability and someone who, having the necessary skills and characteristics, freely assists in meeting some of that person's needs.
A long-term commitment is needed
Citizen Advocacy asks prospective advocates to consider involvement over the longer term. Citizen Advocacy is not something to fill time until something else comes up.
Frequently Asked Questions
If you think you could be a friend, supporter and ally to a person with  intellectual disability, contact the Citizen Advocacy Coordinator, Suzzanne Deguara, at Side By Side Advocacy. You can ask questions and learn more about Citizen Advocacy. Suzzanne will explain what is involved in becoming a Citizen Advocate.
If Citizen Advocacy is right for you, you will be offered training and ongoing support to assist you in making a real difference in the life of a person with intellectual disability.
Suzzanne can be reached on 0424 187 974 or via email at ca@sidebysideadvocacy.org.au.
You can also learn more about Citizen Advocacy by completing the contact form at the bottom of this page.
The Citizen Advocacy Coordinator at Side By Side Advocacy makes matches between a person who is well-connected in our community and a person with disability who has unmet needs.
We explain the role of citizen advocates to people so they can make an informed decision about whether they will commit to becoming a citizen advocate.
We then provide orientation, follow up support and training opportunities for citizen advocates.
What citizen advocates do is influenced by a range of factors including:
• the needs and interests of the person with disability
• the length the citizen advocacy relationship has existed
• barriers experienced by the person with disability
• opportunities identified
For example, a citizen advocate who is matched with a young person who lives in an institution might need to monitor services, protect the person from harm, speak out against abuse and neglect and advocate for a living situation that suits the needs of the person.
A citizen advocate who is matched with a child who attends special education classes in the public school system might negotiate with school personnel about their learning needs and speak out for better educational opportunities.
A citizen advocate might help a person budget, monitor their finances and help set up a savings plan.
A citizen advocate who is matched with a person who is a patient in hospital may need to advocate for appropriate treatment or event to speak and act to save the person's life.
It is common for the role of the citizen advocate to evolve over time as they develop a deeper understanding of the life experiences, needs and interests of the person with disability they are matched with.
We start by getting to know the person with disability. We learn about some of their history and some of the issues that the person is facing. We think about a role a citizen advocate might play in this person's life. We think about the qualities that the citizen advocate should have. Then we go to our networks and ask, "Who do you know that…".
We then talk with the potential advocate, learn as much as we can about them and then, if what we have learned points to a good match, we introduce the two people. We meet together several times and then both people decide if they would like to be matched in a citizen advocacy relationship. We help with first steps and then we support the match as needed.
Sometimes potential citizen advocates are identified by key stakeholders. Board members, citizen advocates and friends of the office introduce us to people that they know and trust and invite those people to learn more about the organization and perhaps to become involved as citizen advocates in the future.
Citizen Advocacy matters because it is common for people with intellectual disability to face barriers to having an ordinary good life included in their local area.
Many people with intellectual disability
• have little or no control over where they live, who they live with, and what they do each day
• have few, if any, freely given relationships – most of the people are paid to be there
• are at ongoing risk of abuse, neglect and exploitation
We believe that good communities are made up of all people and all people have valuable contributions to bring. Citizen advocacy plays a part in fostering more inclusive communities.
Citizen advocacy is an opportunity to put values into action on behalf of one person by reducing risk of negative forces and enhancing the likelihood of positive opportunities.
Yes! Side By Side Advocacy is the only organisation in NSW that includes a Citizen Advocacy Program but there are other Citizen Advocacy across Australia and overseas.
The Citizen Advocacy Trust includes a link to other Citizen Advocacy Programs in Australia.
Yes! There are many ways you can contribute to the work of the Citizen Advocacy program. Some are described below.
Advocate Associates are not advocates but assist advocates by providing specialist advice and support within their area of expertise. Advocate Associates give expert advice in areas such as law, finance and government agency processes.
Crisis Advocates assist with issues which need to be urgently addressed. Examples could include where someone is at risk of immediate physical harm or homelessness. A crisis advocate can work through the issue or help in an emergency situation until a long-term advocate can be appointed.
Volunteer Recruiters work with staff to recruit citizen advocates. This can be via a range of methodologies including
• public speaking to interested groups
• assisting with advertising ideas and layouts, and/or
• making contact with interested individuals.
Contact Deb Maio to explore any of these possibilities on 0424 187 974 or via email at ca@sidebysideadvocacy.org.au.
You can also signal your public support for Side By Side by becoming a member.
Citizen Advocacy began following the conference hosted by the United Cerebral Palsy Association in 1966. It was a response to the calls from families who were asking the question: 'What happens to my child with disability when I am gone?'
Founded by Dr Wolf Wolfensberger, the first Citizen Advocacy program started in Lincoln, Nebraska in 1970. By 1972, following a presidential commendation and federal grant money, over 200 Programs opened in the United States alone.
Citizen Advocacy started in Australia in the early 1980s.
Side By Side Advocacy began its Citizen Advocacy program because of a recognition of the unmet needs of people with intellectual disability living in the Ryde and Hunter's Hill local government areas.
In 1989, a steering committee was established to investigate the feasibility of setting up a citizen advocacy program to address that unmet need. One of the driving forces of the steering was John Roarty, a resident of Weemala in Ryde. He wrote forcefully about his experience of being institutionalised in his book Captives of Care. The steering committee was successful and the association, known as Citizen Advocacy Ryde Hunter's Hill (CARHH) was incorporated in 1991.
In 2006, the constitution of CARHH was changed to enable the organisation to add a second model of advocacy. This form of advocacy is called Individual Advocacy and is delivered by members of staff, whom we call advocates. In 2006, we changed our name to Side By Side Advocacy. The organisation later added additional projects.
In 2021, we celebrated 30+ years of Citizen Advocacy.
Can't find an answer to your question? Contact us with your enquiry.
Contact Us
Do you need more assistance?
Contact the Side By Side Advocacy team today.